By Will Self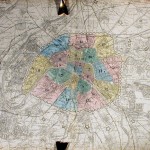 Novelist Will Self found walking the way others find methadone or God or coffee and cigarettes: by giving up recreational intoxicants that had gotten the better of him. The bad-boy journalist, who once was ejected from the campaign plane of Britain's John Major when he was discovered taking a little powder up his nose, is still a provocateur, at least verbally, though he's been clean now for eight years.
Today, Self's buzz of choice is beating his feet, sometimes serious rambles of 100 miles, sometimes briefer skirmishes, whether close to his London home or as far afield as Singapore and Turkey. Through his eyes, however, even Brighton can be foreign country.
Not just any brand of walking will do. Self's walks are alert and curious and, often enough, devilish, what the French Situationists in the 1960s called a derive—stepping forth to grasp "the manner in which the contemporary world warps the relationship between psyche and place," to get behind the surface spectacle and witness states morphing into states of mind. In a word: psychogeography.
"Psychogeography" starts with a walk through the "neglected and unimagined interzone" from his house to Heathrow Airport. Boring like a worm through the urban tree ring, he soon finds himself in a surprisingly bosky precinct, where the "greeny-beige noise of outdoors" saps the mental tape loop of everyday irritants.
Stay off the highway and the foot journey to Heathrow becomes one of "the babbling brook, the damp tongue of leaf-pressed tarmac snaking through the grass, the sentinel yews and tipping rowans, the massy oaks still in leaf." Not all is as it seems through the car window, which precludes enjoying the "convocation of ring-necked parakeets," the knock-kneed tool sheds, the pedestrian tunnel "jaggy with aerosol graffiti," the modest canal dubbed the Duke of Northumberland's River, or the Caucasian Giant Hogweed, "a vicious Triffid of a plant, masquerading as cow parsley with a pituitary disorder."
Once the flight to Kennedy Airport is over, he takes up the walk again, a loop through Brooklyn to Manhattan. But his quest for "ambulatory sartori" is sorely tested by East New York, which proves to be a dun and unprepossessing slice of urban landscape, and forget about the topography, which is subsumed by the human presence. The human presence does get his blood, and pen, pumping. A gun crew sizes him up from behind the tinted windows of their SUV (he can only dream of engaging them in a discussion of urban territoriality); pulling his instigator's hat down snug, it occurs to him that the Hassidim are "Calibans in homburgs," enraged by their own reflections: "another Semite who's sought asylum on Prospero's isle."
It is in memory's hallway that Self finds an unexpected connection. Visiting his mother's childhood home in Queens, with its neo-Tudor buildings of honey-colored brick, he is left feeling that the Atlantic had been drained and "Hayes, Middlesex, had been rammed unceremoniously into South Ozone Park," a Mobius strip of urbanism that twists from London to New York City.
The other pieces in this collection are quick, burnished, furious columns Self wrote for England's Independent newspaper. The walk from London to New York is full of festive associations—spontaneous thoughts, images, old songs, and those long-ago days of debauch evoked by his passage—but in these shorter articles, with the friction that can come from word constraint, his riffs catch fire.
One piece finds him brooding on urban renewal during an anti-war march in London, a city full of riot-friendly squares and tortuous streets, where an insurrectionist can get down to business, and on how the broad boulevards of Paris and Washington offer a clear field of fire for the power folk. Another finds him rubbing shoulders with fishermen, "a peculiar temporary settlement of moody Anchorites," wetting their lines in the warm waters adjacent to a nuclear power facility.
In central Anatolia, he considers what it means when a manufacturer of clothes driers sponsors a troupe of whirling dervishes. In Barcelona, where he is enjoying the "gigantic urban sorority" of the city at holiday time, he nods to the Lolita of sacred architecture, Gaudi's La Sagrada Familia, but is more intrigued by the architect's infantilism, "[t]his desire we all have to be a pink, fluffy girl in a pink, fluffy bedroom." Throughout the book, if your mind's eye fails you, Ralph Steadman's accompanying illustrations, ink-pocked and unnerving, work like a cattle prod.
As Self rides the eddies and whorls of place ambiance, nothing quite stirs his psychogeographical jones as does a touch of the absurd. One day, in Middle Earth—that is, the Midlands of England, in Lichfield, where "the perfect bijou Gothic cathedral gnawed at the sky and gnashed on the winding"—he sought a piece of cheese. Unlikely, a local informs him, despite cheese and Midlands being synonymous. " 'You'll have to go to Iceland.' And that, in a non-recyclable plastic shell, is the very rub of modern Middle England: you always have to go to Iceland."
(from the San Francisco Chronicle)